Reiki Welcome Book Templates
Our templates are designed to help reiki coach like you create a professional and organized introduction to your services
With our templates, you'll be able to provide your clients with a clear understanding of your services, availability, communication preferences, and contact information
Want Your Dream Clients To Fall In Love With Your Business?
As a Reiki practitioner, using a welcome book template it help you to introduce your practice to new clients, establish trust and credibility, and provide them with the information and guidance they need to have a successful and rewarding Reiki experience.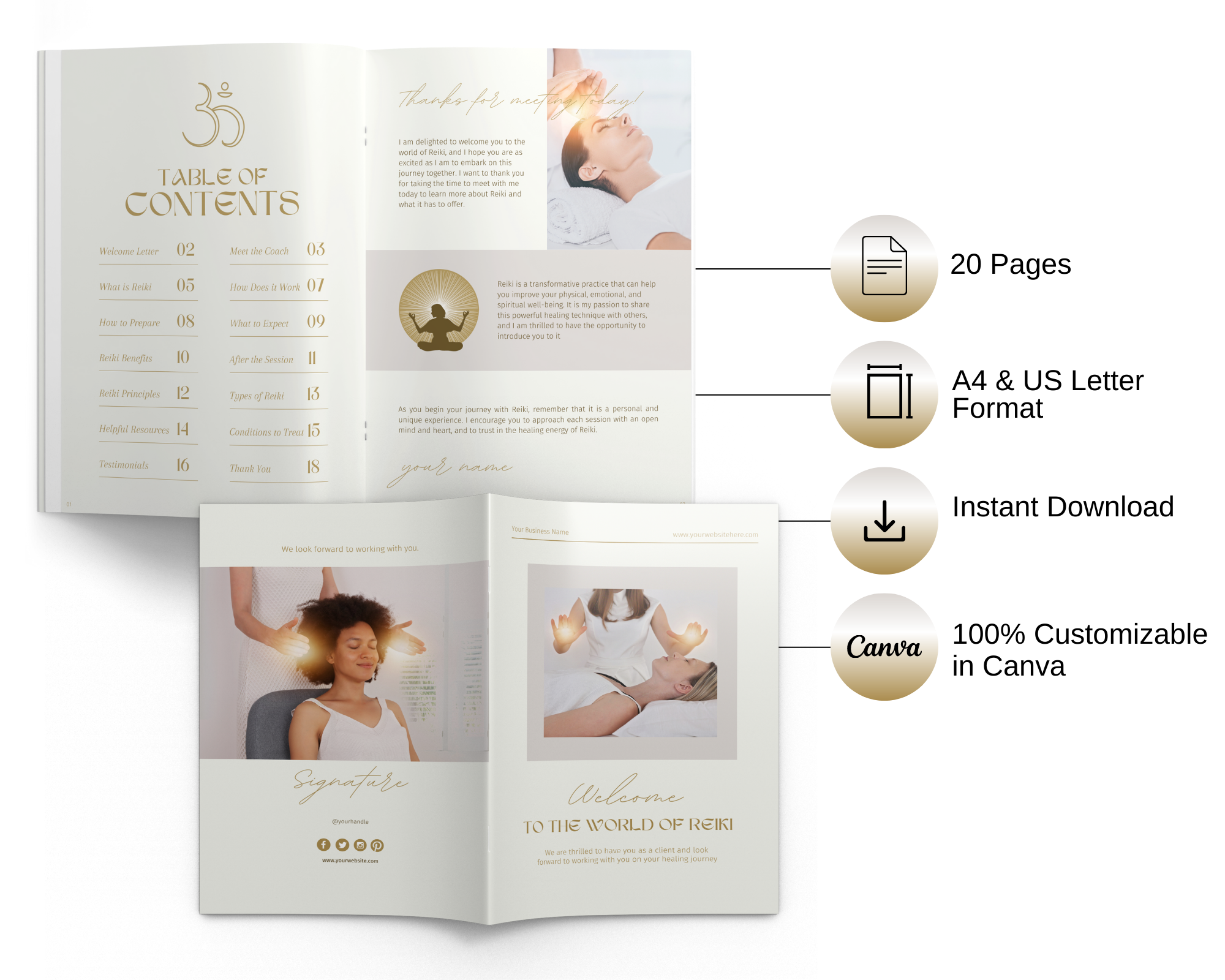 Create a Beautiful Welcome Book in Canva (No Experience Required!)
Look Like You Spent a Fortune to Your Dream Clients (But Did it Yourself!)
Stand Out From the "Crowd" and Make A Bigger Impact with Your Message
Simply Drag-and-Drop Your Own Photos and Content So It Matches Your Brand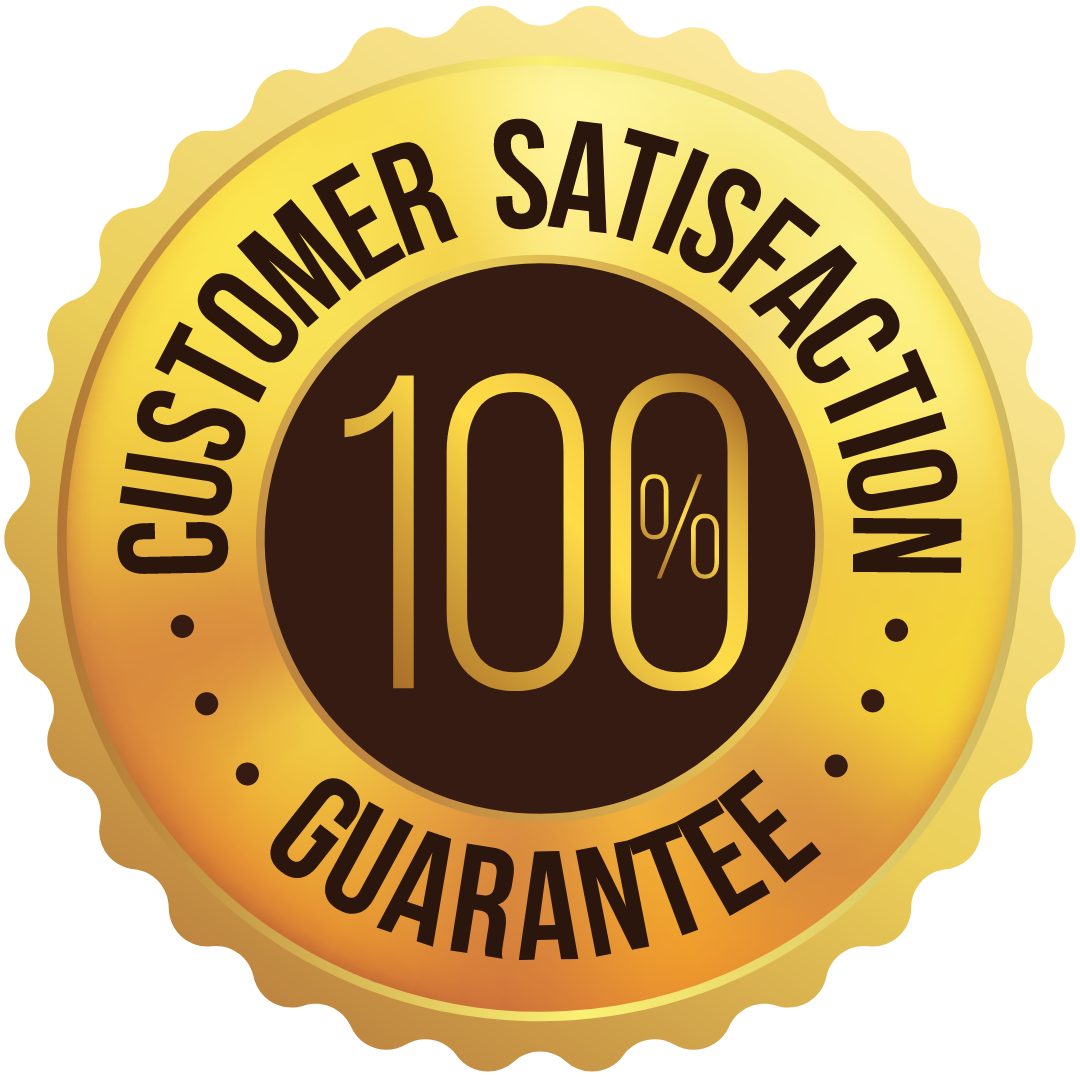 All our templates are fully guaranteed for your peace of mind. If you're not satisfied with them after 7 days, we will offer you a full refund, no questions asked!
Free lifetime access
Tutorials Included
Guaranteed support
Quality designs
Simple to use and edit
All You Need to 100% Customize Your Template is a Canva account!
This simple to use software is a creators dream. Simply click to import your templates into your account, drag and drop your photos into the templates and start adding content to your ebook right away!
WHAT'S INCLUDED INSIDE...
The Ultimate Welcome Book Template
Book cover (Front & Back)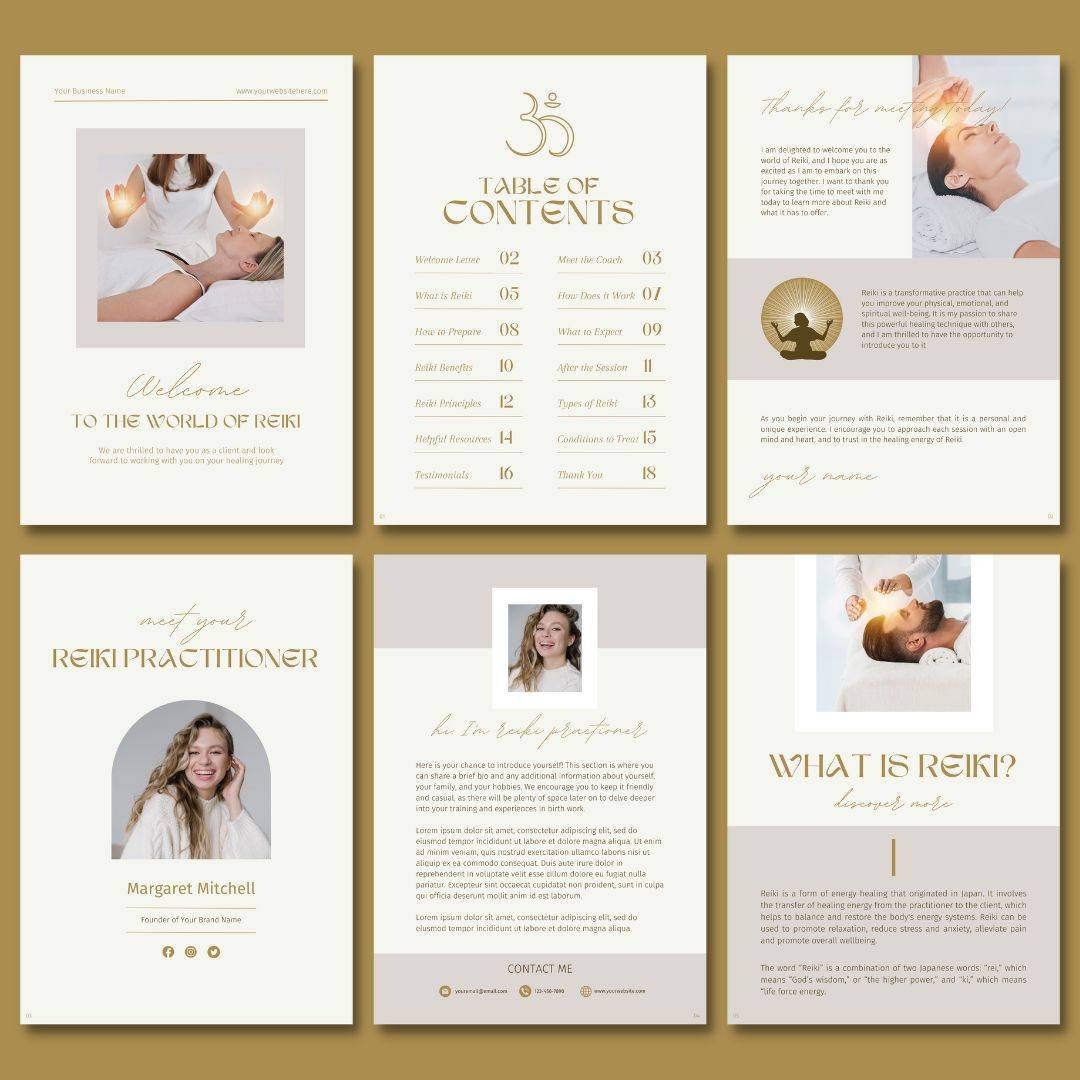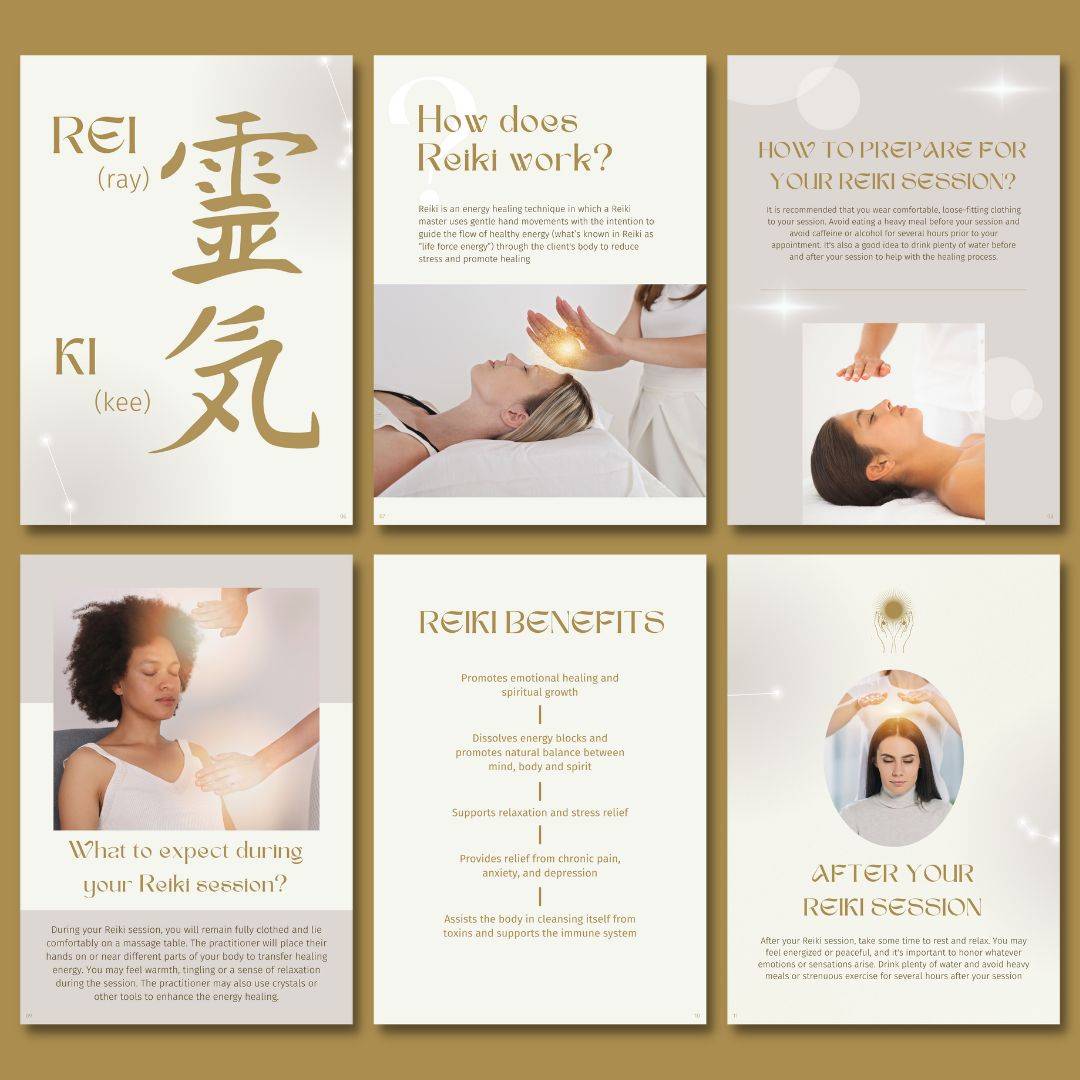 You wish there was a better, faster, and simpler way to create content without taking hours of your time...
...or thousands of dollars from your budget! Now, you can...
Stop wasting precious hours staring at a blank screen. Designing from scratch can be difficult and time-consuming.
Skip the learning curve. No more wasting days or weeks trying to figure out how Photoshop works.
Save the frustration. Trying to come up with a beautiful design for your content can be a frustrating chore.
Save your money. No more hiring expensive freelancers. Working with freelancers might sound like a good idea until you have to pay the invoice
Welcome book template help you to showcase the benefits of Reiki and how it can help clients achieve their wellness goals.
This help to build excitement and anticipation for the session and inspire clients to make Reiki a regular part of their self-care routine.
You can send this welcome ebook digitally or make a copy to leave at your clients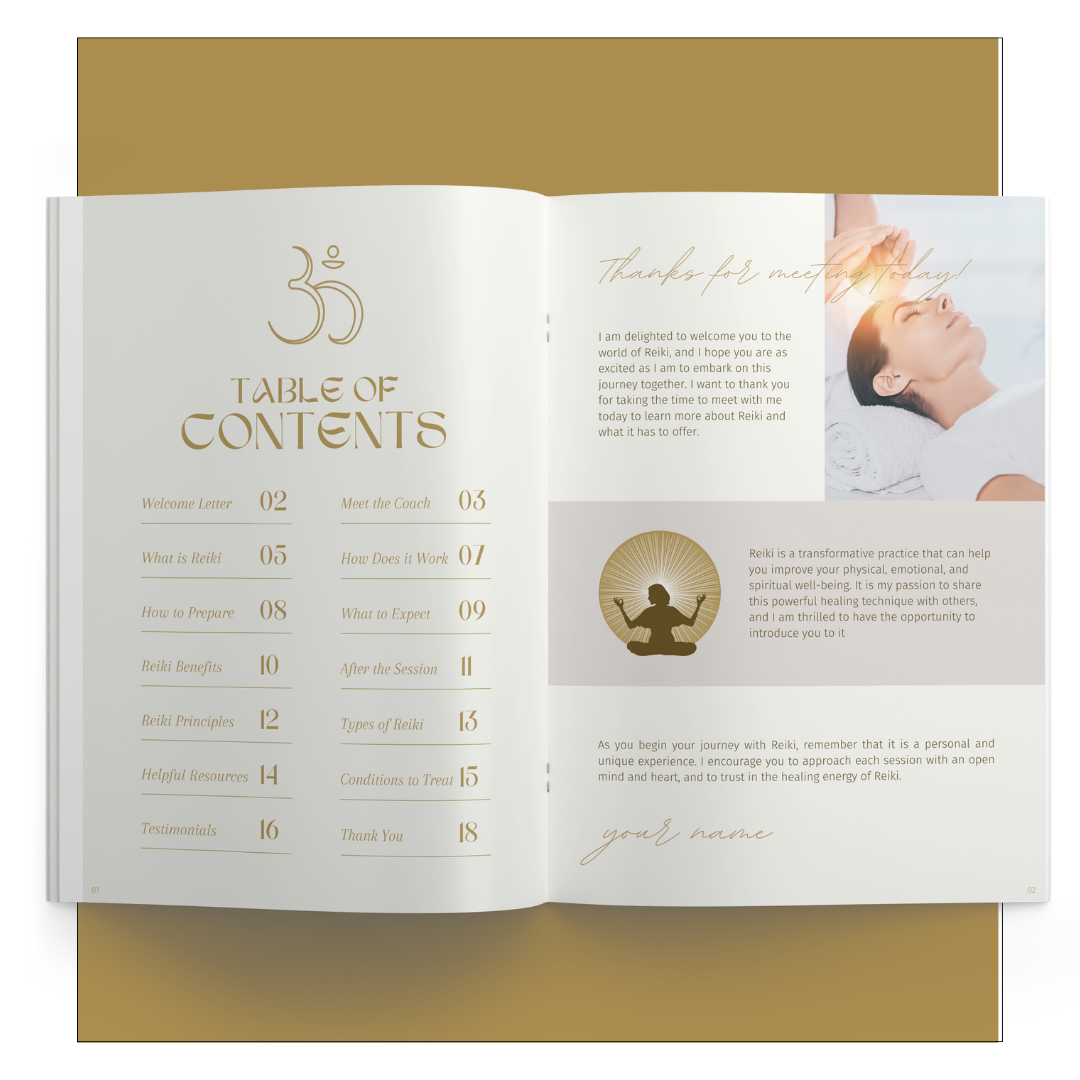 BE HONEST WITH YOURSELF...
Want To Spend MORE Time Working With Your Dream Clients & Less Time Stressing Over Tech?
THEN THIS WAS MADE FOR YOU!
They include all the important information that your clients will need to know, including your services, availability, communication preferences, and contact information. They also include space for you to add your own personal touch, such as a letter of introduction, testimonials, and photographs.